Head of Sales and Business Development at Lab4U, an EdTech company innovating in science education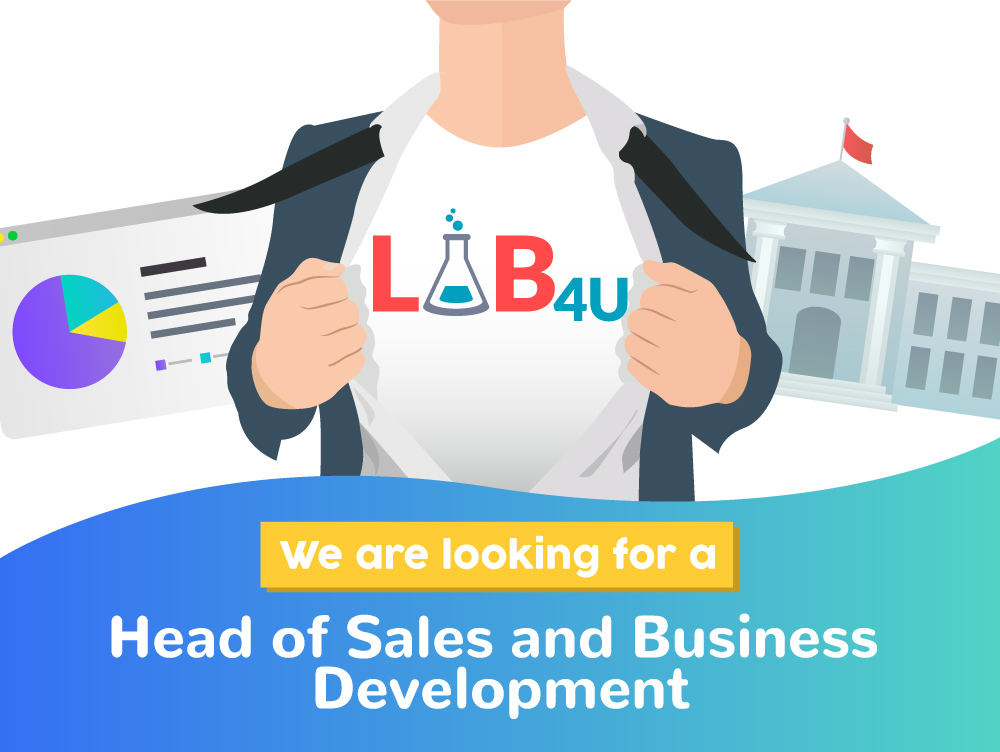 Did you study STEM, education, or business? Have you sold tech or ed services to the educational sector? Do you feel motivated to improve the quality of education in the Latin America and the world? Do you want to take on new challenges and grow personally and professionally in a meaningful job? We have an opportunity for you!
What is Lab4U?
Lab4U is a social business committed to social change through the democratization of science education. We develop innovative technologies and methodologies, turning smartphones into pocket labs and training and supporting science educators so that all students can have access to a quality, hands-on science education. Born in Chile, we're growing in Mexico, where we hope a new Sales and Biz Dev lead can lead and grow our team. Through our work, we're transforming education in Mexico and Latin America! To learn more about us, click here.
Head of Sales and Business Development
The "Head of Sales and Business Development" position at Lab4U is oriented toward ambitious, hard-working, mission oriented, data-driven, team players who are willing to work aggressively to reach ambitious sales goals, develop strategic/commercial relationships, and cultivate new opportunities, with the end goal of growing our business in Mexico and Latin America. The team member we select for this role will have excellent interpersonal abilities, great communication and organization, and willingness to work as part of a diverse, international team through the use of digital tools for communication and workflow documentation. Finally, they will be motivated to have work with purpose, passion at being a part of a social business, and want to be a part of a pioneer, growing business EdTech in Mexico.
The main role of this role is to cultivate and close new business opportunities, while also thinking strategically, organizing and making the sales department's work more efficient, taking on leadership on the team.
Specific responsibilities of the role
Develop client pipeline, increasing Lab4U's penetration of private schools in Mexico and Latin America, facilitating 300 new deals with schools over the next 2 years.
Develop business development/marketing strategies with a focus on B2B (Business to Business) and project sales (with schools, networks of schools, Corporate Social Responsibility, and governments), in conjunction with Lab4U's senior leadership, to be implemented in Mexico, Chile, and other markets,
Lead and close negotiations with key partners in Mexico and other countries in Latin America,
Increase brand awareness of Lab4U in Mexico, specifically focusing on Lab4U as a provider of educational solutions that improve the learning experience through tech and science content,
Organize and document sales processes, collect and organize key metrics for reports and data-driven decisionmaking
Take on a role of leadership on the Lab4U team as head of the commercial department
If you live in Mexico, you have experience in B2B sales and/or business development, and think you have what it takes to take on this challenge and transform science education with us, we want to meet you!
Requirements
At least 3 years of experience relevant to the role, for example: B2B sales/business development, strategic consulting, sales to governments/educational institutions, incubation/entrepreneurship programs, investment banking, development of social enterprises
Experience and quantifiable achievements in business administration or social organizations, experience in sales, go-to-market, promotion, and/or business development,
Bachelor's degree or Master's (preferable) in business administration, economics, engineering, or other relevant studies
Ideally: Experience managing CRM (Salesforce, Pipedrive, etc.)
Skills and abilities
Ability to work in uncertainty and to prioritize focus items
Ability to navigate, mitigate, and solve interpersonal and inter-institutional problems
Ability to develop medium- and long-term plans and prioritizations based on organizational goals, and to execute on them
Ability to develop and execute complex business models in new markets
Excellent organization and critical thinking skills
Excellent communication with diverse audiences
Financial analysis skills
Fully bilingual in professional settings (Spanish-English)
Qualities
Ethical, responsible, dependable
Innovative and self-driven
Respectful and comfortable in diverse settings (cultural, ethnic, religious, socio-economic)
Communicative and affable
Organized, with the capacity to manage multiple workflows simultaneous
Appetite for taking on challenges. Perseverant and able to manage frustration.
We expect
Propose a sales strategy and follow through on it
Be an active manager of relationships
Visit clients on the ground or virtually for product and sales meetings
Learn deeply about the product and propose improvements based on client feedback
Close sales and oversee associated administrative processes
We offer
This job is remote (home office) during 2020, due to the ongoing COVID-19 outbreak, with preference for candidates based in Mexico City.
Flexibility in terms of work hours and conditions
Competitive monthly salary and benefits package, to be determined based on prior experience of candidate. This model is based on a base salary + commission model, tied to sales goals.
Requires travel 10-20% of time (currently suspended due to COVID-19).
Who are we?
We're a multidisciplinary, diverse team made up of scientists, engineers, and educators, passionate about changing the world. We work in an environment that is fun, hard-working, with high expectations. You'll work with colleagues from around the region who are committed to our mission. With Lab4U, you can grow personally and professionally, while at the same time, generating social impact and contributing to our rapid growth in Mexico and around the world.
Do you like what you hear? We'd love to meet you! To begin the application process to be the next Head of Sales and Business Development at Lab4U, please click here