We are looking for an International Business Development Specialist (Bilingual)!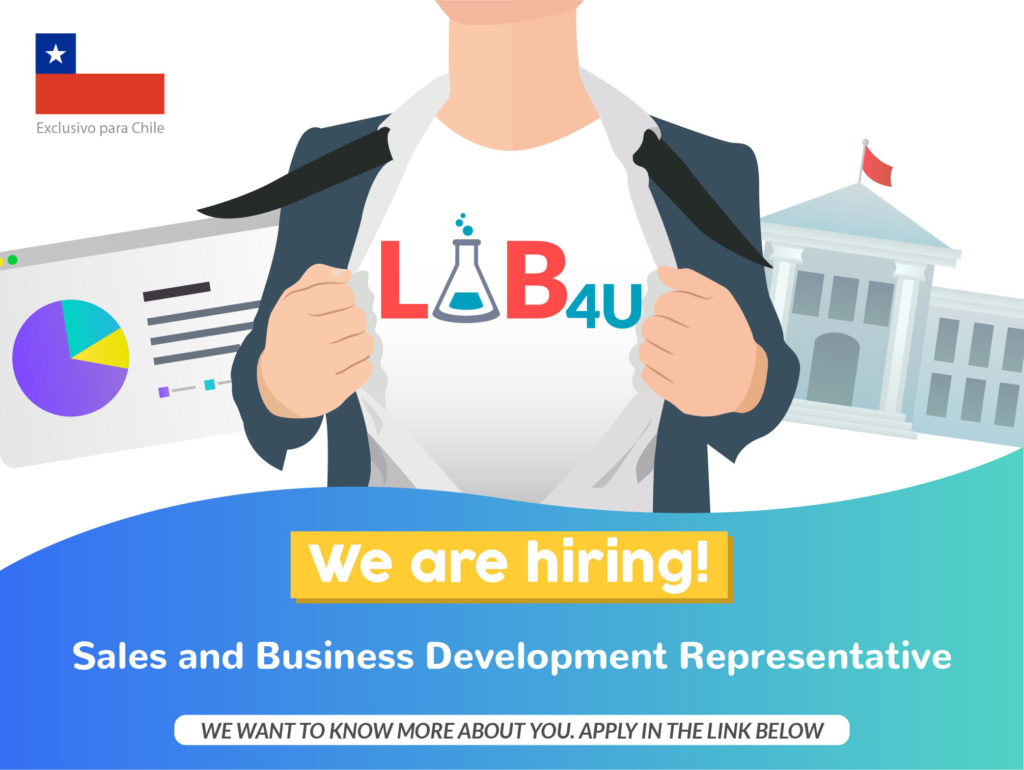 International Business Development Specialist (Bilingual)
(Recently Graduated) 
Our Mission
Lab4U is an ed-tech startup committed to social change through the democratization of science education. We develop innovative technologies and methodologies, turning smartphones into pocket labs and training and supporting teachers to let students have access to quality science education. We are transforming education and democratizing science education by providing teachers and learners an experiential technology platform to perform inquiry-based science experiments all over the world.
Lab4U's products use smartphone technology to turn them into pocket labs and help educators plan and teach rigorous, inspiring science classes based on scientific inquiry and exploration. Our products target students and teachers at the inflex point where STEM education can radically change their career choices. Lab4U's suite of products includes Lab4Physics, Lab4Chemistry and Lab4Biology (in development) which are designed for use in high school and introductory-level university science courses, and use built-in mobile sensors to turn smartphones into experiential science labs. To see Lab4U in action, check out the following video: Lab4U in CNN
Our predominant markets are LatAm and USA. To continue this dream and grow with an impact in society, we would like to invite to our team a key member. To know more about our story and culture, visit our website: https://lab4u.co/en/our-story/
Lab4U Team
Lab4U has a friendly, young, diverse, and international work climate. As a team, we compose a fun but demanding environment in order to pursue our dreams with a strong commitment to our mission. We are a multidisciplinary team composed of scientists, software engineers and educators (Get to know our team). And now, we would like to integrate a Business Development Specialist into our business and sales team. We are looking for a proactive person, passionate about changing the world.
Application
This position is open to dynamic people who are passionate about technology, education, and social impact. We are looking for an entrepreneurial spirit, sociable, proactive, self-managing, organized, and motivated, with the ability to work under an uncertain scenario and customer-oriented.
This is a unique opportunity for a recently graduated professional who is interested in growing personally and professionally, with a deep interest in social innovation and science education as a tool to break the cycle of poverty by improving education in Latin America and the world.
Finally, you should be motivated by purposeful work and want to be part of one of the pioneering companies in educational technology development for science learning in Chile and Latin America.
This position will be remote during the COVID19 pandemic (2021). We provide a stipend during the internship months. More info about Lab4U and our website: www.lab4u.co
Description
We are currently looking for a Business Development Specialist to join our team in Chile.
The main function of this position will be new sales and business opportunities generation, which consists mainly of attracting new educational and corporate institutions for partnership building.
You will work with colleagues who are highly committed to our mission and with both high individual and collective work expectations. You will be able to grow personally and professionally and have an important social impact in a company in a stage of accelerated growth in Chile, Mexico, the United States, and the world.
To consider
We are a startup, and early team members get a chance to do a bit of everything, from Business Development to Marketing to Finance to Business Intelligence, and basically being there for the community and the team is our number one responsibility.
Technical Responsibilities
Design Business Development and Marketing strategies focusing on B2B (Business to Business) and project sales (with schools, colleges, school networks, Corporate Social Responsibility, and Governments).
Evaluation and development of new business and partnerships.
Set up service contracts with new clients.
Develop pricing and costing strategies for services, in order to adjust the Product-Market Fit.
Generate and maintain good relationships with clients, with frequent and fluid communication by different channels.
Coordinate and manage business meetings with administrators and decision-makers in schools, municipalities, universities, and/or companies with CSR budgets.
Use and manage CRM and client databases.
Schedule, coordinate, and support other members of Lab4U's commercial team in their activities.
Make proposals, bids, and sales of services.
Make Business Intelligence analysis (market analysis, industry benchmark, client knowledge, service mix, among others).
Requirements
Strong empathy with teachers and communities in which we want to impact.
Passion for improving education in an equitable environment.
Passion for science and technology education.
Careers: Commercial Engineering, Business Administration or related careers.
Bilingual and fully proficient in English and Spanish.
Availability to work full time.
Recent graduate with passion for business development, consultative sales and growth hacking.
Advanced knowledge of Microsoft Office, Google Suite, and databases.
High analytical skills and results-oriented.
Affinity with multicultural environments and relationships with international clients.
Remote work from home (at least until March 2022).
Availability to work after the pandemic in Santiago, Chile.
Availability for domestic and international travel.
Remuneration and benefits of working with us.
You will work with corporations all around the globe and school. Time differences exist, we provide flexibility and expect flexibility.
Schools and educational institutions are early risers, you will visit schools early morning. If you are a late riser (some human beings are biologically late riser) we recommend other positions in product or software development that do not require working directly with school clients on regular basis.
If you believe you might find affinity in at least 3 of the following themes and areas of growth, Lab4U is the right place for you:
– Passion for improving science education and reducing inequalities.
– Passion for social innovation and social impact.
– Passion for entrepreneurship and startups.
– Passion for Business Intelligence, Product and SaaS Metrics.
– Passion for Marketing and Communications.
– Passion for Marketing Analytics & Growth Hacking.
– Passion for Business Development and Sales.
– Interest for SaaS Finance and Unit Economics.
Good to know:
We love passionate people and we value your time and interest in professional growth, therefore it is important to do some expectation matching: we are a startup, we are a small ordinary team doing extraordinary work, this might not be a regular corporate experience many professionals are looking for. Here are some blogs that might help you make a better decision for your position:
In order to continue with the internship application process, we invite you to fill the following application form: