Lab4U is looking for an International Business Development Specialist (Bilingual)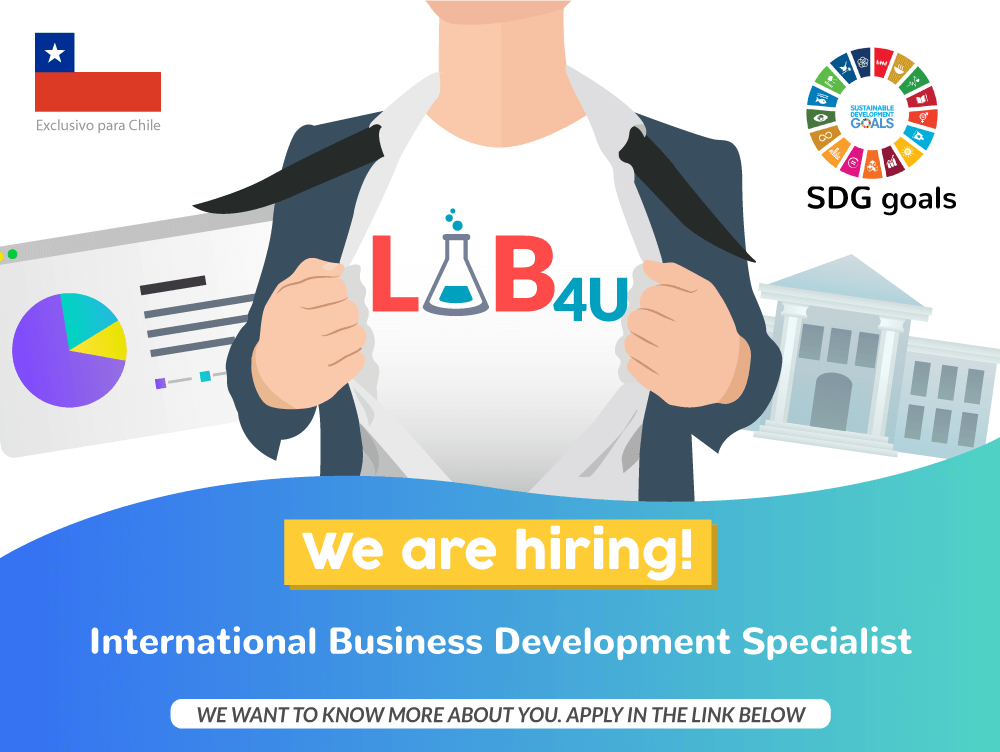 International Business Development Specialist (Bilingual)
Description
Lab4U is growing! One of the pioneering companies in educational technology in Chile and Latin America is looking for a Business Development Specialist to join our Revenue team in Chile. This is a unique opportunity for a recently graduated professional to join a growing startup in Chile, the first and only one to have received an investment from Morgan Stanley's acceleration program.
This position is open to dynamic people who are passionate about technology, education, social impact, and looking to break the cycle of poverty by improving education in Latin America and the world.
The main function of this position will be new sales and business opportunities generation, which consists mainly of attracting new corporate and educational institutions for partnership building, as well as being an active part of our accelerated growth and international expansion to Mexico, the United States, and the world.
Our Mission
Lab4U is an ed-tech startup committed to social change through the democratization of science education. We develop innovative technologies and methodologies, turning smartphones into pocket labs and training and supporting teachers to let students have access to quality science education through inquiry-based experimentation. To see Lab4U in action, check out the following video: Lab4U in CNN
Our predominant markets is LatAm. To continue this dream and grow with an impact in society, we would like to invite to our team a key member. To know more about our story and culture, visit our website: https://lab4u.co/en/our-story/
Lab4U Team
Lab4U has a friendly, young, diverse, and international work climate.. We are a multidisciplinary team composed of scientists, software engineers and educators (Get to know our team). And now, we would like to integrate a new Business Development Specialist into our revenue team. We are looking for a proactive person, passionate about changing the world.
Responsibilities:
Design Business Development and Marketing strategies focusing on B2B (Business to Business) and social impact projects with Corporate Social Responsibility, Social Value, Sustainability, Corporate Affairs and other alike.
Identifying potential customers and partners, prospecting, scheduling discovery calls and bringing in new deals
Set up service contracts with new clients.
Develop pricing and costing strategies for services, in order to adjust the Product-Market Fit.
Generate and maintain good relationships with prospects and potential clients, with frequent and fluid communication by different channels.
Coordinate and manage business meetings with administrators and decision-makers in companies with CSR budgets.
Use and manage CRM and client databases.
Make Business Intelligence analysis (market analysis, industry benchmark, client knowledge, service mix, among others).
Requirements & Skills:
Careers: Business Administration, Civil Industrial Commercial Engineering, Business Administration or related careers.
Bilingual and fully proficient in English and Spanish (The interview process will be in English)
Strong empathy with teachers and communities in which we want to impact.
Passion for social impact and improving education in an equitable environment.
Passion for science and technology education.
Availability to work full time.
Passion for business development, consultative sales and growth hacking.
Advanced knowledge of Microsoft Office, Google Suite, and databases.
High analytical skills and results-oriented.
Excellent communication skills
Proactive, structured, and detail-oriented
Affinity with multicultural environments and relationships with international clients.
Availability for domestic and international travel.
To consider
We love passionate people and we value your time and interest in professional growth, therefore it is important to do some expectation matching: we are a startup, we are a small ordinary team doing extraordinary work, this might not be a regular corporate experience many professionals are looking for. If you are passionate about social impact this is the place for you.
We are a growing startup hoping for every team member to grow alongside the company, we will offer a sales compensation plan aligned with the company and team values; however, it is important for us that you know that this is NOT a SENIOR position, we are all sailing in the same boat, and we see huge growth potential for this position in Ed-tech. Lab4U aims to become the leader in STEM education and Education Technology, and YOU can be a part of it. We have a small budget which we hope to increase over time; depending on the experience, skills, and language domain (perfect written and spoken Spanish and English), we will be offering a salary of monthly US$ 1,000 to US$1,500 + annual sales commissions.
Would you like to be part of this adventure?