The brand new Lab4U App collects all our great Lab4Physics, Lab4Biology and Lab4Chemistry content in one place.

At Lab4U we want to continue being a support for our teachers and students to transform the way to approach science in their classrooms. This 2023 we've renewed ourselves to offer a better experience, more functionalities and STEM educational content that makes experimentation the best and most entertaining way to teach and learn physics, chemistry and biology, only by using a cell phone or tablet.
We've kept and integrated ALL of our tools such as the Colorimeter, Accelerometer, Plotter, Color Inspector, and Analyscope. Also, we have new content, new platforms and endless possibilities to train the scientists and engineers of the future.
Slide 1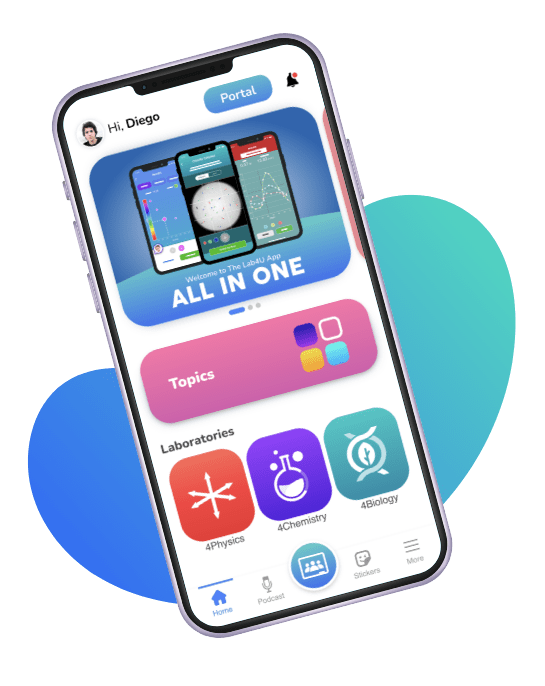 All for one and one for you
We've changed to offer you all of our solutions in just one single app, lighter, with new features and all the content and tools of Lab4Physics, Lab4Biology and Lab4Chemistry in one place, easier to navigate so you can access all the material you need to transform the STEM education.
Slide 2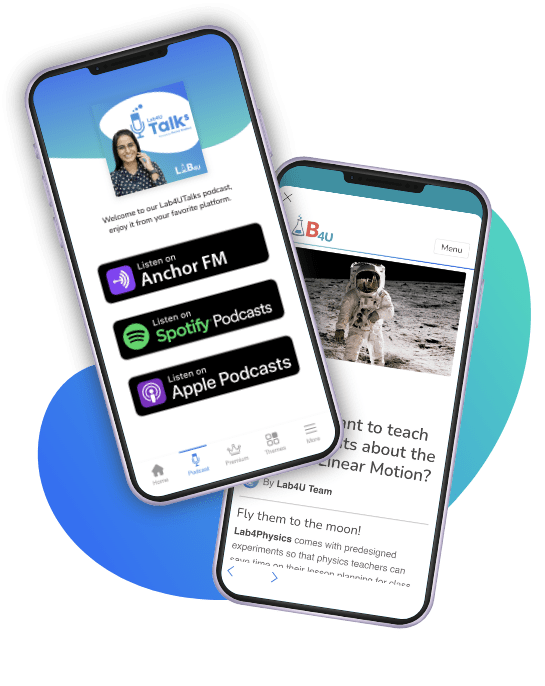 We are more than just experiments!
We have new content directly from the Lab4U App. Deepen your knowledge on STEM topics with our Blog, Podcast and multimedia. Make the most of all the resources that Lab4U offers you to enhance your scientific knowledge.
Slide
Curriculum alignment
We have a wide range of content that's aligned to the educational curriculum, so that you can develop your science classes and expand into different topics. Also, discover educational resources from industries such as mining, energy, forestry, aerospace, climate change issues, renewable energy and much more!
Enjoy direct access from the Lab4U App to our Lab4U Portal, a meeting place for teachers and students to explore educational resources, engage with experiments, and enhance 21st-century STEM skills in the classroom. Exclusive for Premium users.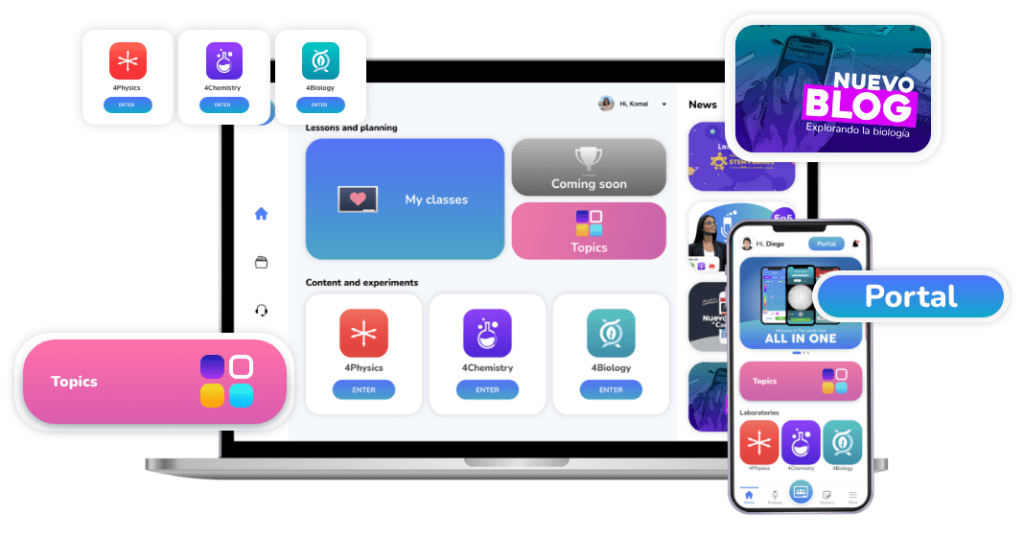 The pedagogy behind Lab4U App
The Lab4U App is built to help you spark your students' curiosity and enhance their critical thinking through inquiry-based learning. By combining Lab4Physics, Lab4Chemistry and Lab4Biology tools and labs in just one app, we offer countless opportunities to strengthen their STEM skills and broaden their minds.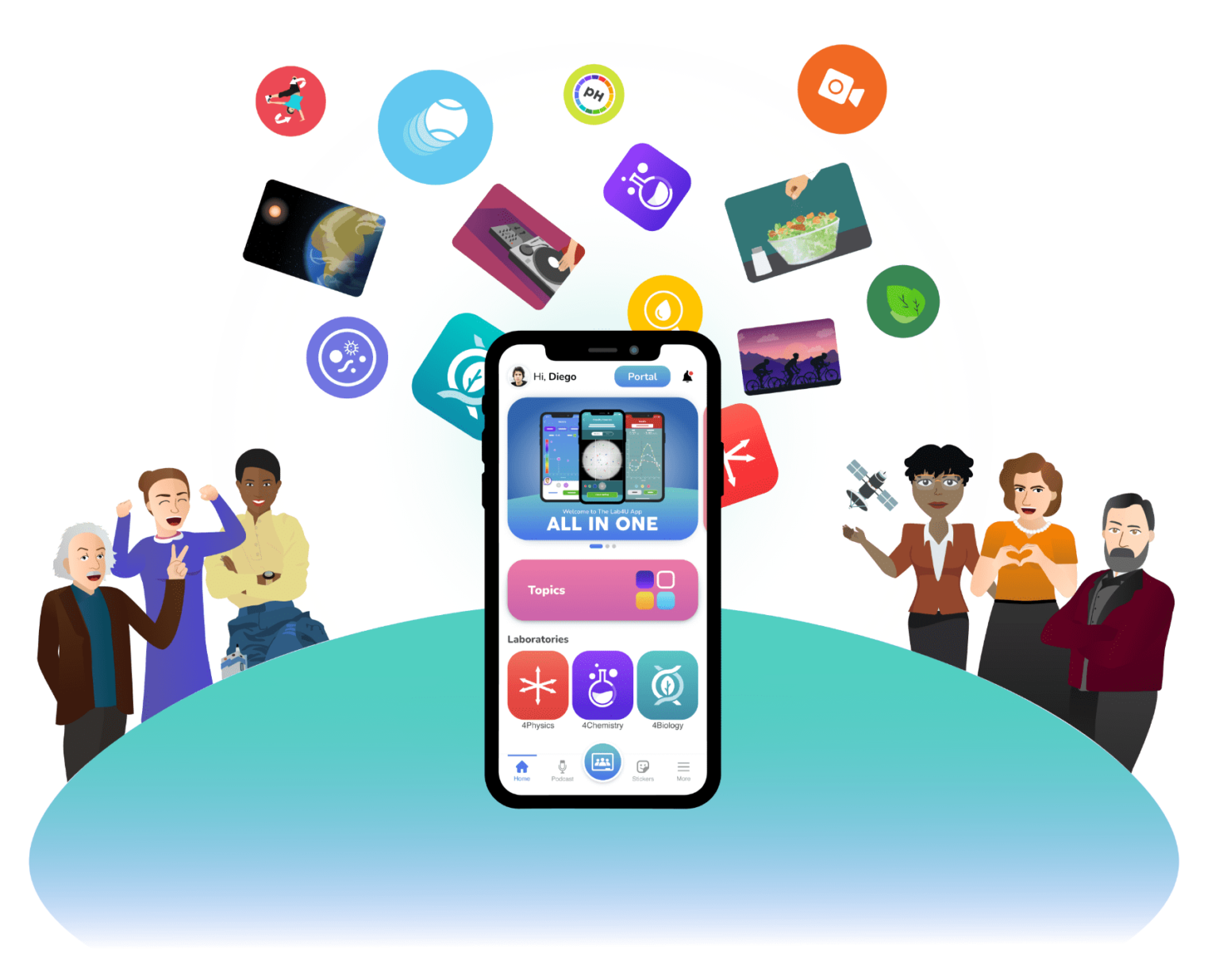 New experiments, features, and content to bring STEM teaching closer to teachers and students.
3 labs, a single app… infinite possibilities!
Lab4Physics
We strongly support knowledge acceleration for mass learning in our educational community.
Lab4Biology
The evolution of learning is in the DNA of Lab4U, releasing serotonin as you experiment.
Lab4Chemistry
The Chemistry between you and Lab4U is the Nucleus to generate a chain reaction towards the knowledge of sciences.
Encourage your students' curiosity with Lab4U!