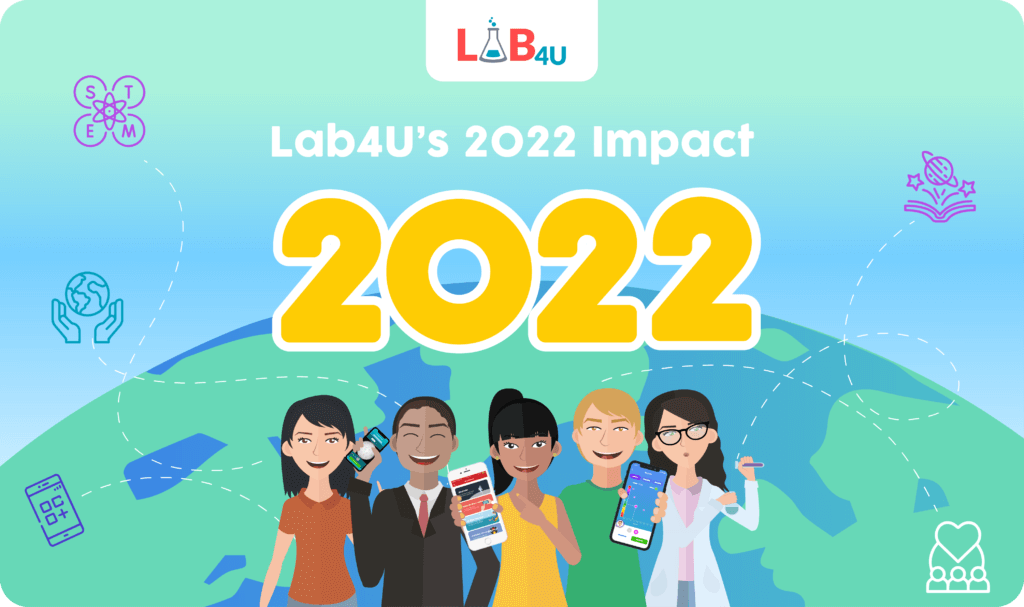 Lab4U's 2022 Impact – Thank you! ❤
Lab4U's 2022 Impact: empowering future leaders
Did you know that, by 2050, the UN estimates that 75% of jobs will be related to STEM (Science, Technology, Engineering, and Mathematics) careers? Unfortunately, only 16% of students today decide to study a STEM-related career.
Technological transformation, industry digitalization, and the constant challenges humans face require that we train our future workforce today. That's why, at Lab4U, we encourage our young people to pursue science and technology. As a result, we hope to generate real change, impact the future of work, and increase equality, equity, and respect for our students.
We have a lot to tell you! During 2022, we reached more than 7,000 students across 25 different communities and 40+ schools in Chile, Colombia, Mexico, and the United States. We, however, have not walked this path alone; 110+ teachers and management teams helped us transform science classes and deepen students' learning using 15+ projects we developed this year.
From Chile to the World
STEM Americas Program | PADF and Boeing
🇲🇽 Beautiful and dear Mexico received us once again. Together with the Pan American Development Foundation (PADF) and Boeing, we reached two educational communities in Querétaro with the STEM Americas Program, which hosted experiments, bootcamps, and scientific projects, all with an aerospace focus. The program's overall aim was to have students solve environmental problems using STEM disciplines and Lab4U tools. They then presented their findings to more than 200 attendees at the November 2022 Science Fair.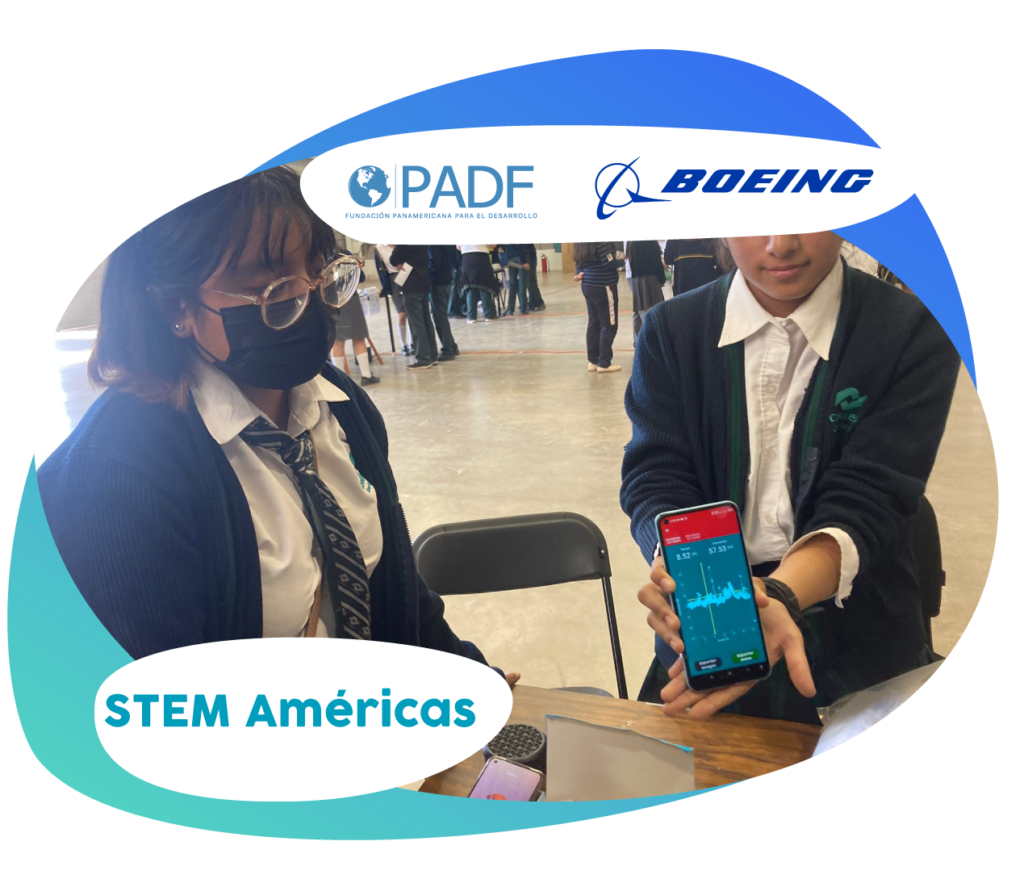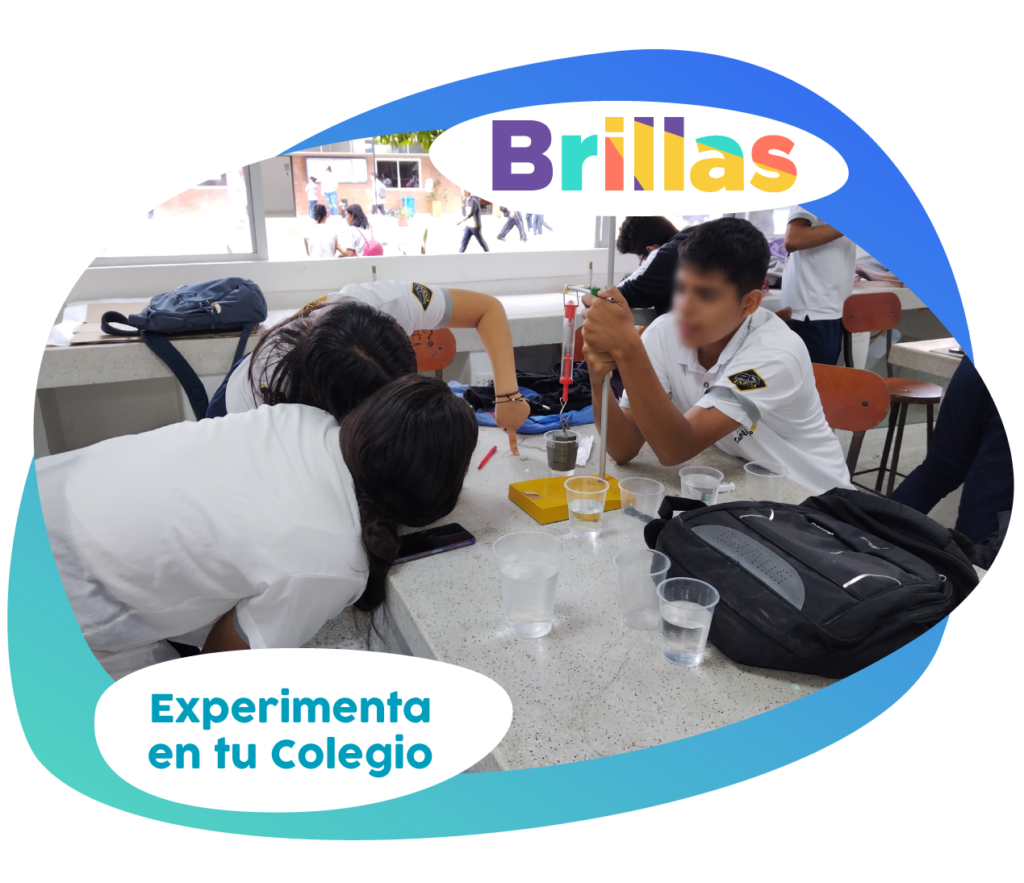 Experimenta en tu Colegio | Fundación Brillas
We further expanded our borders with Experimenta en tu Colegio, a project developed with Fundación Brillas. This time we went to Colombia 🇨🇴! More than 300 students in the towns of Villavicencio and Pachaquiaro developed skills, scientific research processes, and knowledge around the greatest ideas of science.
In schools across Chile 🇨🇱, from Antofagasta to Chiloé.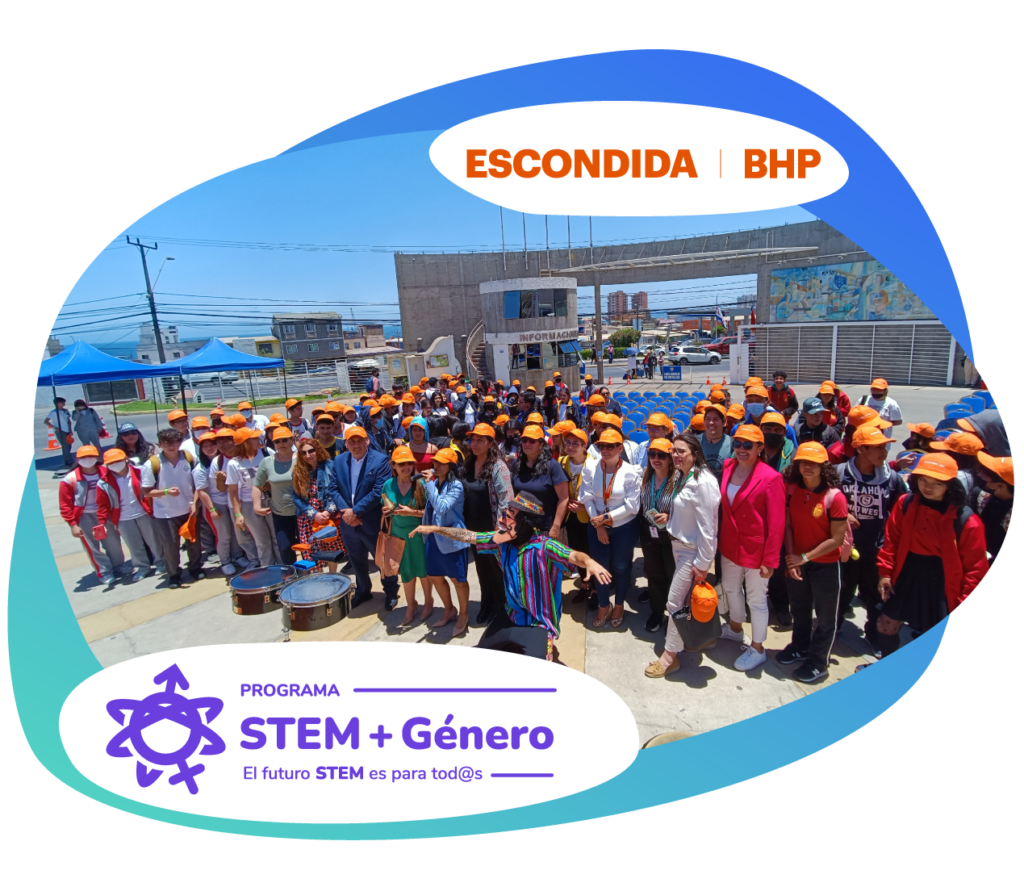 STEM+Género Escondida | BHP
We're empowering and motivating more than 150 girls to study science and technology, with the STEM+Gender program supported by Escondida|BHP. In 2023, we will continue to encourage students' STEM development and thus strengthen the future of Antofagasta's workforce.
NorTEduca | SQM And Fundación VOA
The NorTEduca program, which, thanks to the sponsorship of SQM in partnership with Fundación VOA, allowed us to work with 3,000 students and 80 teachers while benefiting 1,000 families. The program brought science activities, training, innovative methodologies, and didactic strategies to Pozo Almonte, Alto Hospicio, Tocopilla, Quillagua, and beyond.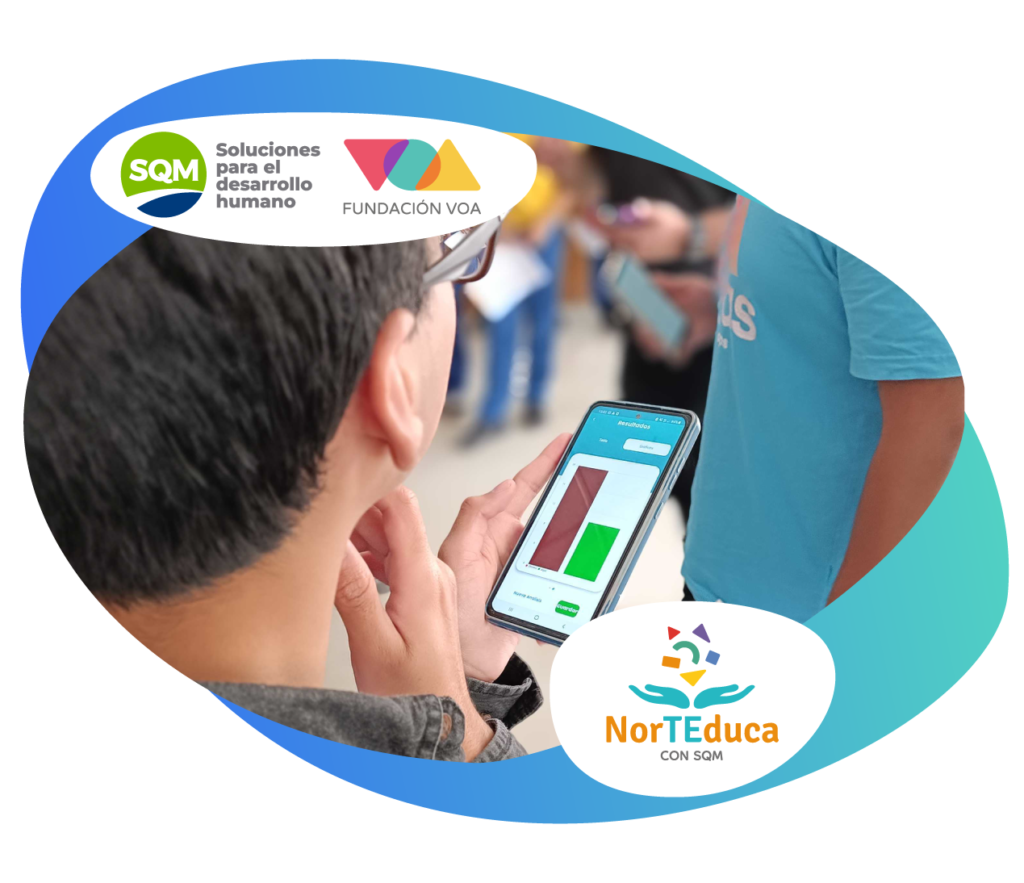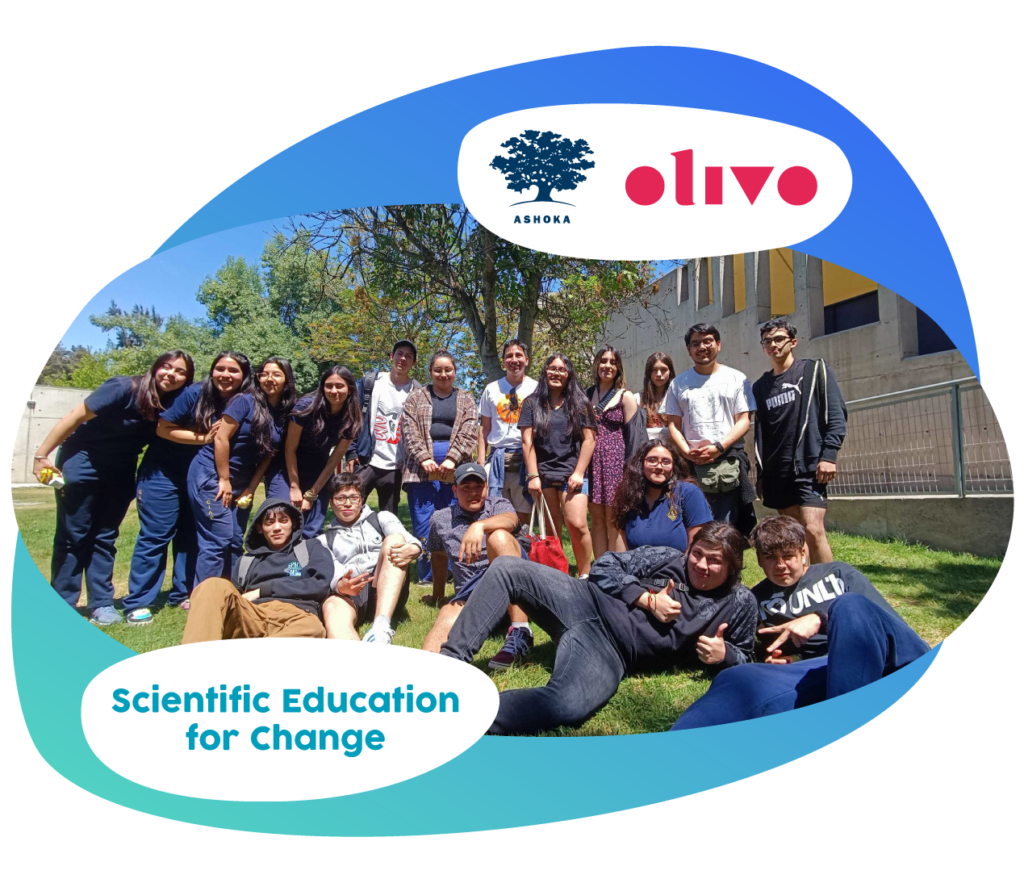 Scientific Education for Change | Fundación Ashoka and Fundación Olivo
We achieved an even broader territorial reach with the Scientific Education for Change program, developed collaboratively with the ASHOKA Foundation and with the support of the Olivo Foundation. In total, we contributed to the development of STEM skills in more than 1,700 students across seven educational communities. We motivated young people to become "Changemakers," encouraging them to become leaders in Chile and worldwide, with science, experimentation, and technology as their fundamental engine.
ExperimEntel | Entel
With a new version of the ExperimEntel program, we promoted the development of scientific learning and social impact in two Santiago schools. More than 160 students and teachers benefited from Lab4U tools, pedagogical support, and experimental accompaniment to deepen the students' understanding of physics.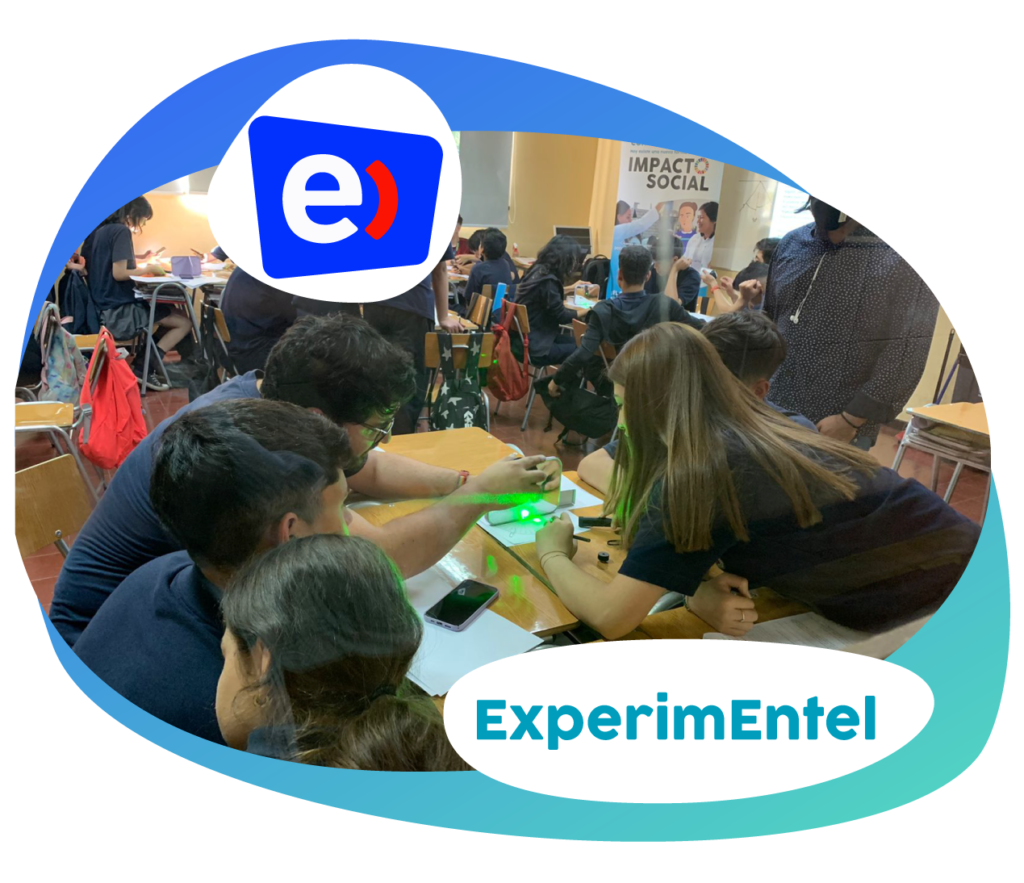 This year, we also celebrated continued partnerships with schools that have trusted us from the beginning, in Chile, such as Alberto Blest Gana School, Altamira School and Lincoln International Academy. In Mexico Instituto Asunción and in USA, South Georgia College. These schools are transforming their science classes together with Lab4U.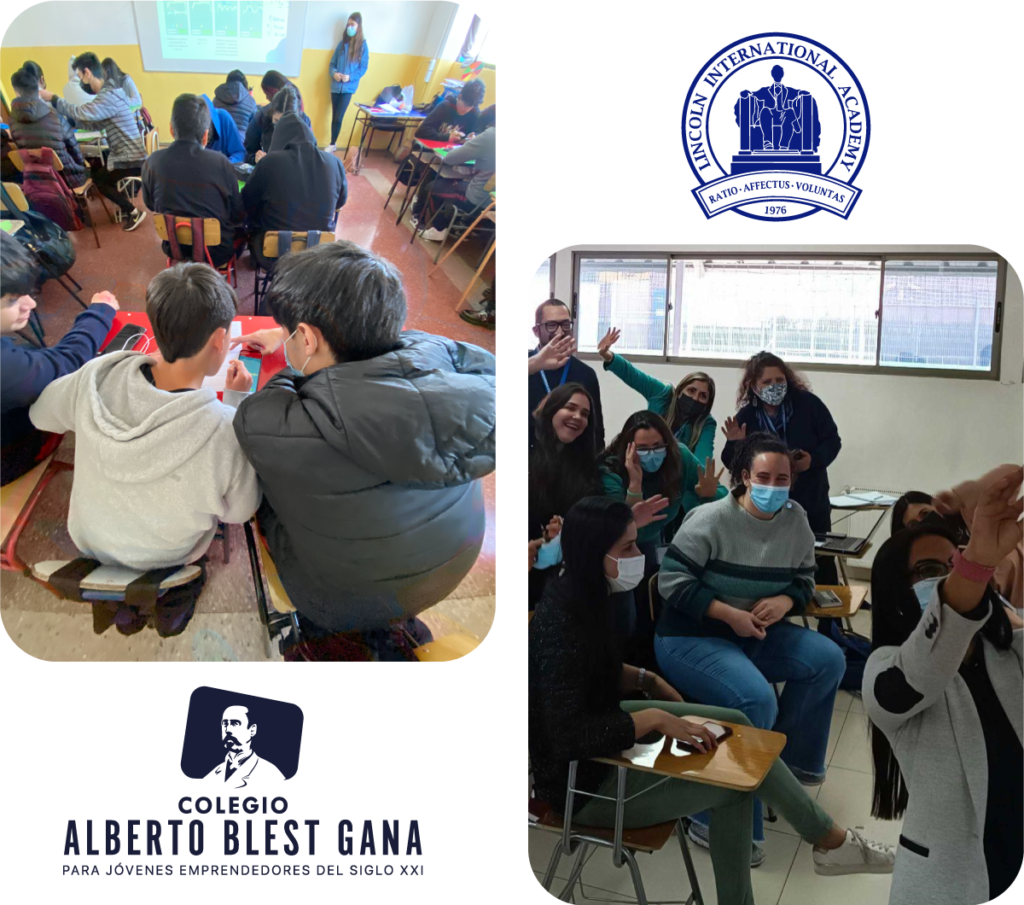 In 2022, we reached an important milestone for our company: we created the Impact Department, which will be essential in helping us measure Lab4U's social impact across different educational communities. It also positions us as a leader within the education, innovation, and entrepreneurship ecosystem in Chile and in the rest of the countries where we work.
Finally, to crown a great year, Morgan Stanley recognized us as the first and only Chilean-American startup selected to be part of its 2022 Multicultural Innovation Laboratory 💪. Lab4U was one of eight international companies selected for its high growth and women- and/or multicultural-led entrepreneurs. As part of the program, Lab4U receives support in business consultancy, acceleration, and due diligence, all of which has been key to our financial operation as we look towards international expansion and upcoming capital raises.
2022 was a great year. Join us in 2023 to continue transforming STEM education and making it universal around the world!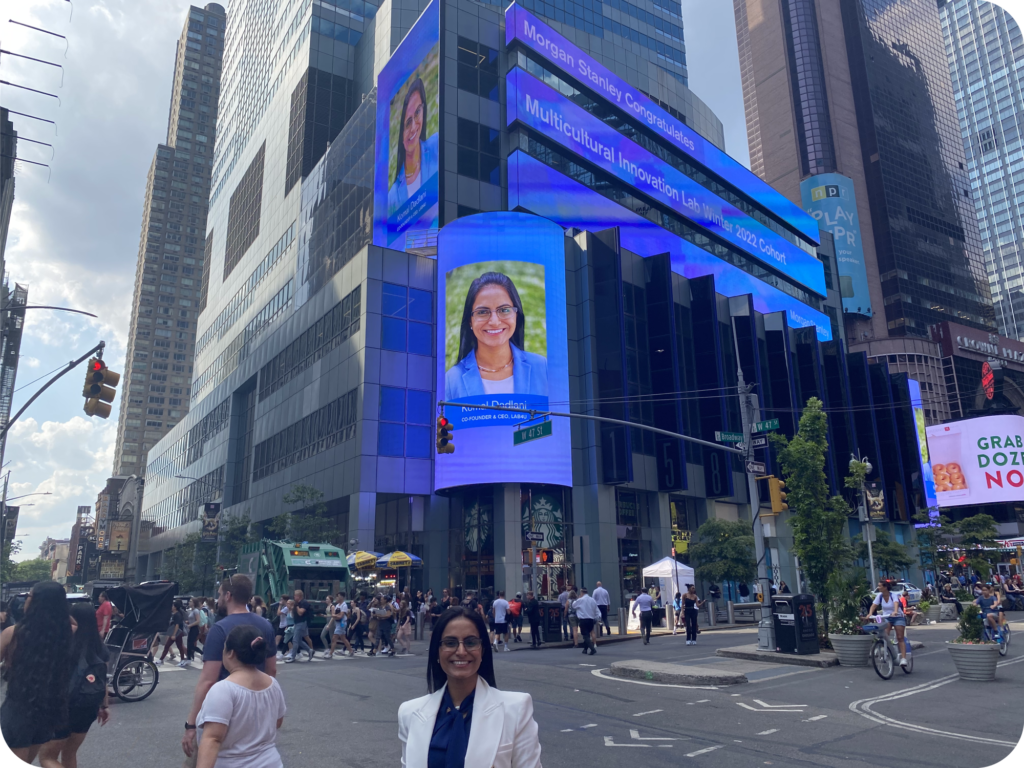 With our partners, we go further.
Pablo Pisani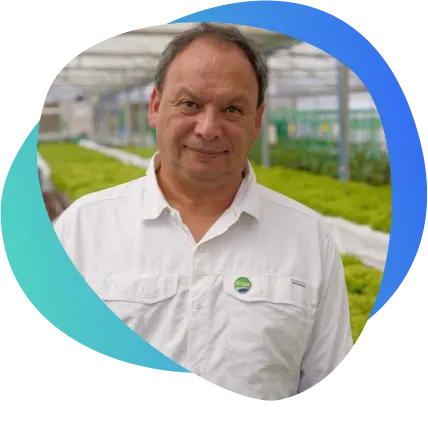 Pablo Pisani
Manager Communities Nitrates Iodine and North Public Affairs,
SQM
"At SQM, one of our work pillars is education and culture, where we support programs that provide tools to develop skills in students and teachers and bridge the gaps that schools far from large urban centers face.
NorTEduca is an outstanding program that we have promoted with Lab4U and that has achieved great success in the Tarapacá and Antofagasta regions. It positively impacts the lives of children and teens who, despite living in isolated areas, now have the opportunity, together with their teachers, to integrate technological tools into their studies and learn science using their phone and Lab4U applications."
Elizabeth Cameron
Elizabeth Cameron

Corporate Affairs Specialist,
Escondida | BHP
"As a company, we promote the STEM+Gender Program, which in a playful way seeks to attract the attention of young women who are searching for their future profession. It is an invitation to break paradigms to advance gender equality and dare to discover careers that are a source of innovation, sustainability, and leadership in the world of work."
Lina Sanchez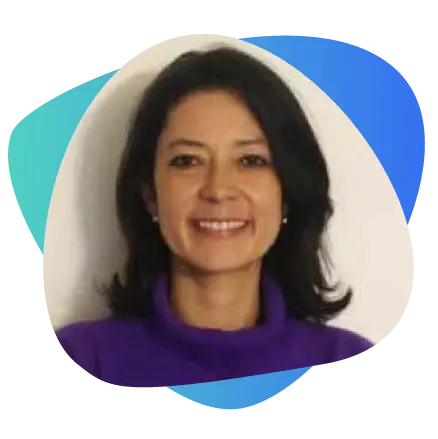 Lina Sanchez
Director of the Brillas Foundation
"For the Brillas Foundation, it has been very satisfying to work with the Lab4U team and launch an innovative commitment to secondary-ed science teaching in Colombia. We frequently see how students move away from the scientific field due to a lack of motivation, significant learning, or self-confidence. It is inspiring to see Lab4U provide a practical and scalable tool that not only awakens knowledge, but also the motivation and expectations of young people who are defining their lives and who can use STEM education as an opportunity to shine in society."
From the voice of our heroes and heroines
It is all thanks to the commitment, bond, and support of our teachers that Lab4U can impact science education and transform students into the workforce the 21st century requires.
To our teaching community, we are so grateful for your partnership. You are heroes and heroines changing the way science is taught and learned!
Camilo Rojas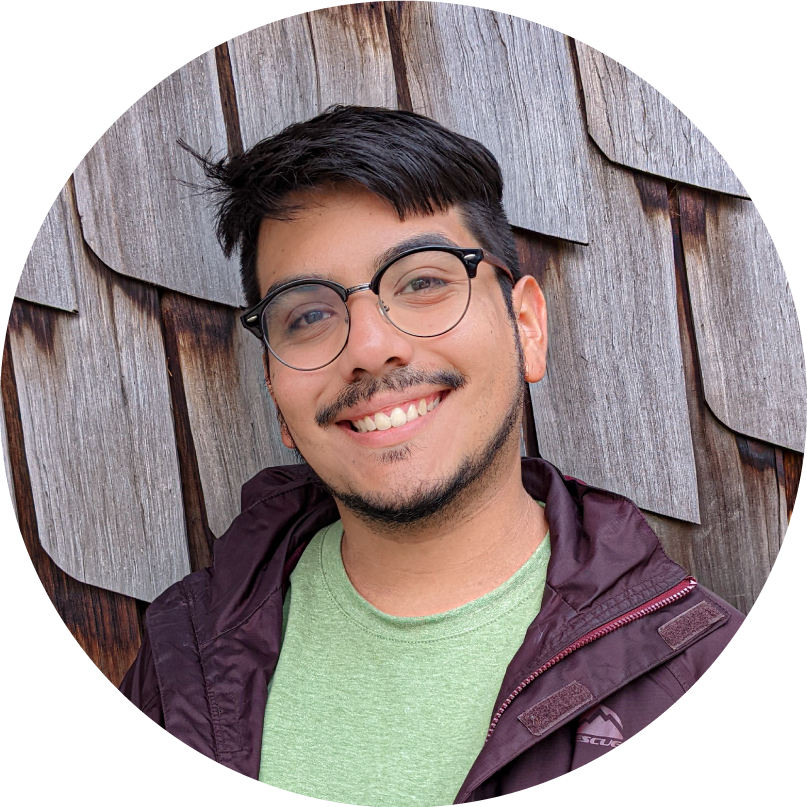 Camilo Rojas
Biology Teacher. Quellón School, Chiloé, Chile.
Scientific Education for Change Project, Olivo Foundation.
Professor Camilo sees in Lab4U a great pedagogical tool to help his students. He also greatly values its ease of use, which helps him further develop his science curriculum and better the students' laboratory experience. "With Lab4U I have the peace of mind that It's going to work, so I just do it," he explains.
Karen Lizama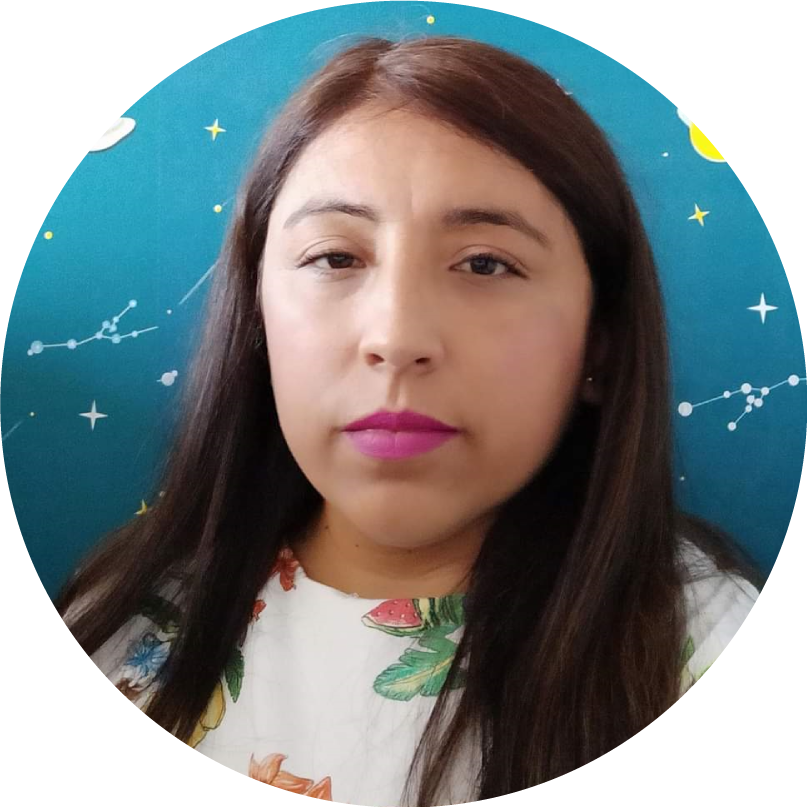 Karen Lizama
Physics and Robotics Teacher, Liceo Marta Narea Díaz, Antofagasta, Chile.
STEM+Gender Project, Escondida|BHP.
Professor Lizama tells us that Lab4U has changed her way of working. "Before, I just taught the lessons, and at the end of the unit I took students to the lab, and they were super motivated with that activity. But today, I teach most of the lessons by experimenting, so that it's more practical and the students can use tools–and that has changed even my teaching perspective".
Evert Daza
Evert Daza
Physics Teacher, INEM Villavicencio, Colombia.
Project "Experiment in your School"
Professor Evert loves the support he gets from Lab4U, as he feels his requirements have always been responded to and the work tools are effective for experimenting. "Today, we use video for the analysis of physics, so apart from recording the movement, the analysis can be done immediately. [Lab4U] gives you the tables and the data with quite good precision, which is very interesting to me."
Cesar Rodríguez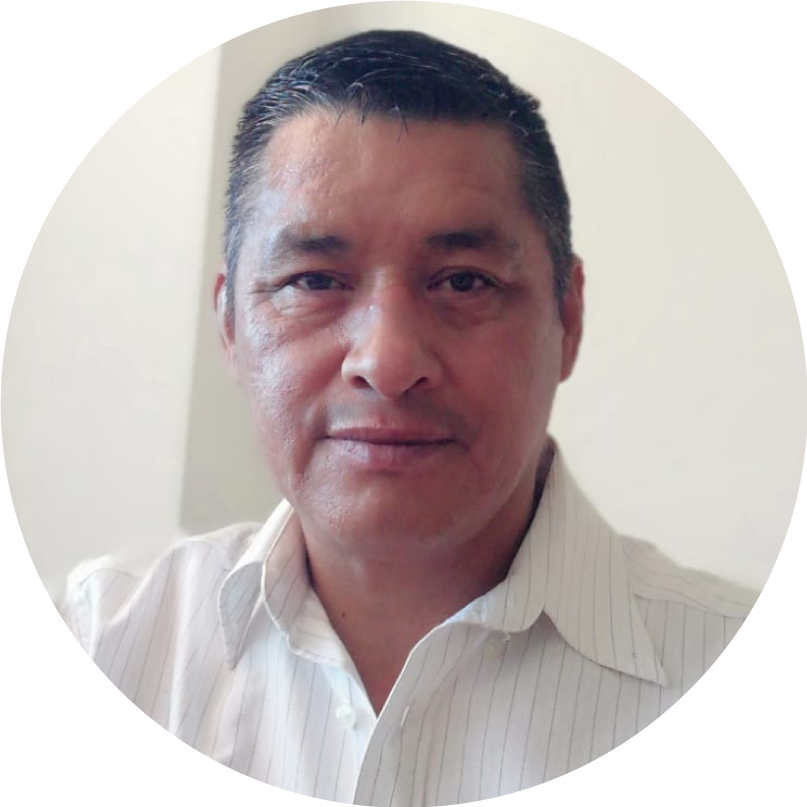 Cesar Rodríguez
Professor of Interpretation of physical phenomena of matter, CONALEP Querétaro, Mexico
Project "STEM Americas"
Professor Cesar appreciates that students have direct interaction with and immediate verification from different materials when using Lab4U. "When we have a new topic, students ask me if we can work with Lab4U," he says. That makes us happy.
The power of Science in your hands
This year, our Department of Education developed new material and content covering the three different subjects using various mobile tools and sensors, like the accelerometer in Physics "Planet in Motion," the color inspector in Chemistry "Birthday Party," and the analyscope in Biology "Coastal Resources." We invite you to dig into each of the sciences and learn more about the range of resources Lab4U offers.
Lab4Biology
The evolution of learning is in Lab4U's DNA. Release serotonin while you learn!
Lab4Biology added more pre-designed experiments meant to develop 21st-century science skills through inquiry and project-based learning.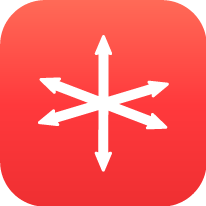 Lab4Physics
We strongly support knowledge acceleration for mass learning.
Lab4Physics added experiments to its curriculum that allowed students to learn in real time about the Universe, Earth, and Optics.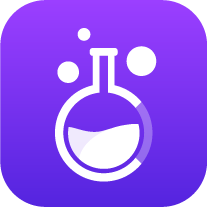 Lab4Chemistry
The Chemistry between you and Lab4U is the core to generate a chain reaction towards the knowledge of sciences.
In Lab4Chemistry, we added thermodynamics, redox, structure of matter, and organic chemistry experiments to our catalog.
Mom, I was on TV! 📰
We're excited to share some major milestones we reached in 2022. Lab4U appeared in the press more than 100 times, covering everything from our partnership with Morgan Stanley to the creation of our Impact Area and even the international recognition of our solution as one of the most promising EdTech in North America, and our co-founder and CEO as a standout female entrepreneur. We invite you to relive the best of our year and visit these articles 👇🏽🎬
The North America EdTech 200 is HolonIQ's annual list of the most promising EdTech startups from North America
The North America EdTech 200 is focused on identifying young, fast growing and innovative learning, teaching and up-skilling startups in Canada and the United States. This year's list sees a greater focus on the learner experience, including engagement, communication & retention.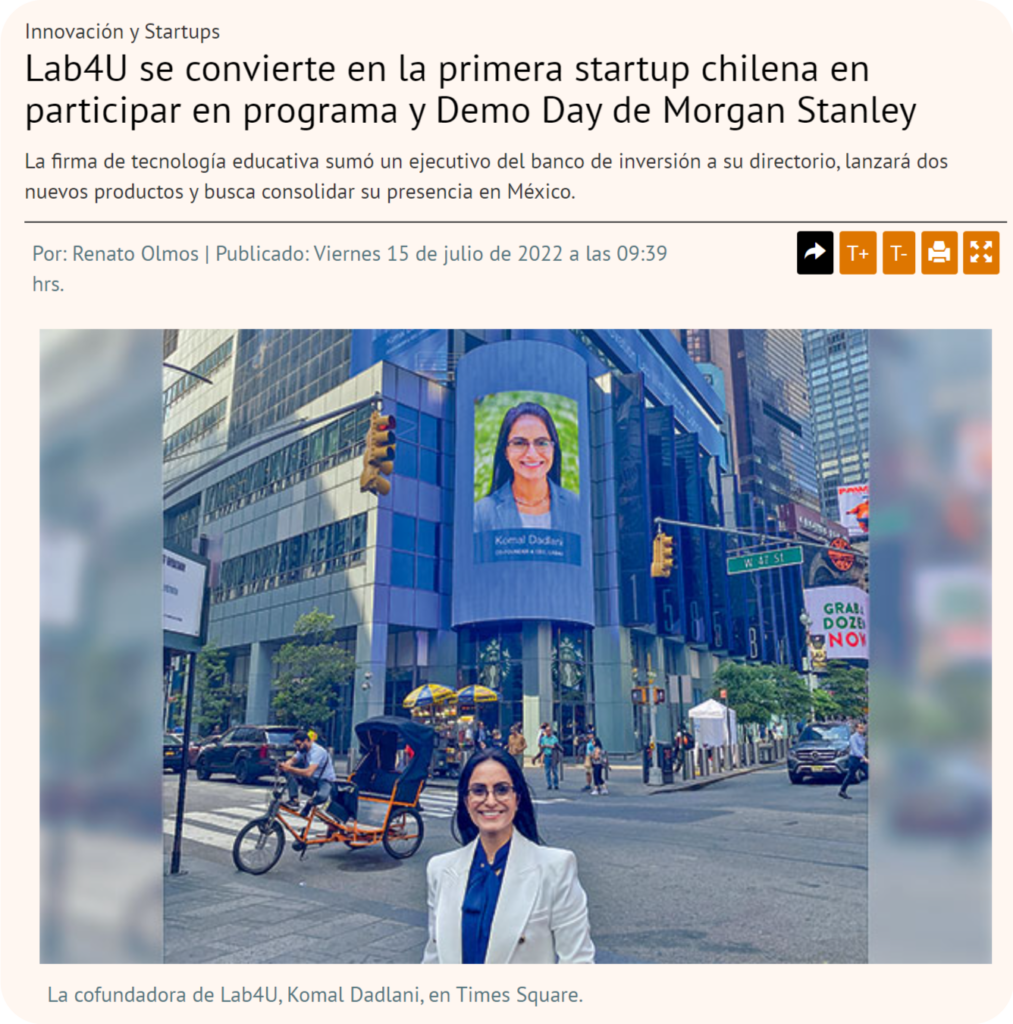 This is how Komal Dadlani attracted investment from Morgan Stanley to her startup, Lab4U
Lab4U became the first Chilean startup to join the financial giant's exclusive acceleration program. Over five months, Morgan Stanley partnered with Dadlani to strengthen Lab4U's business plan, with the aim of reaching a future IPO or M&A operation.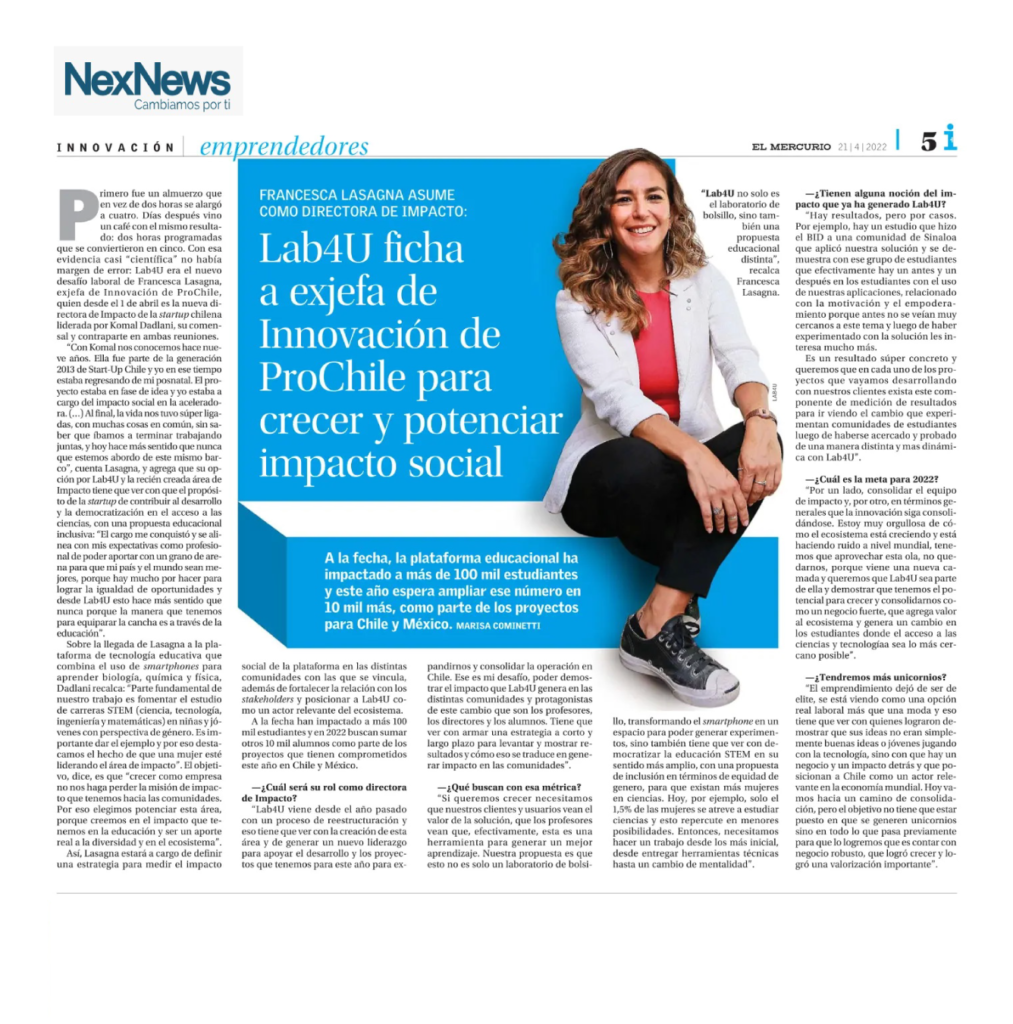 Lab4U signs ProChile's former Head of Innovation to grow and enhance social impact
The recently created Impact Area started measuring the platform's social impact in the various communities where it operates. It also works to strengthen the relationship between Lab4U and its stakeholders and position Lab4U as an important actor in the national and international innovation ecosystem.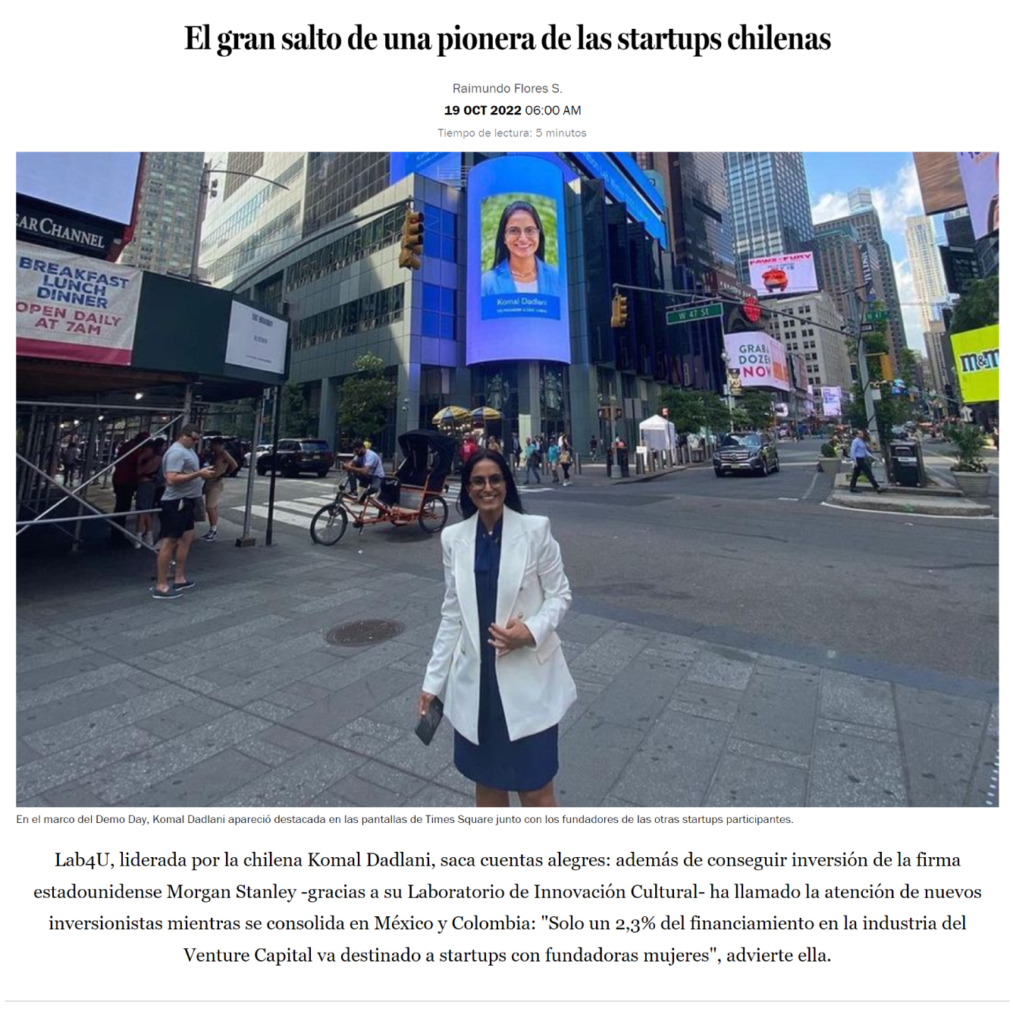 The great leap of a pioneer of Chilean startups
Lab4U, led by Chilean Komal Dadlani, shares encouraging news: in addition to obtaining investment from the U.S. firm Morgan Stanley (thanks to its Cultural Innovation Laboratory), it also attracted the attention of new investors while consolidating in Mexico and Colombia. "Only 2.3% of funding in the Venture Capital industry goes to startups with female founders," she explains.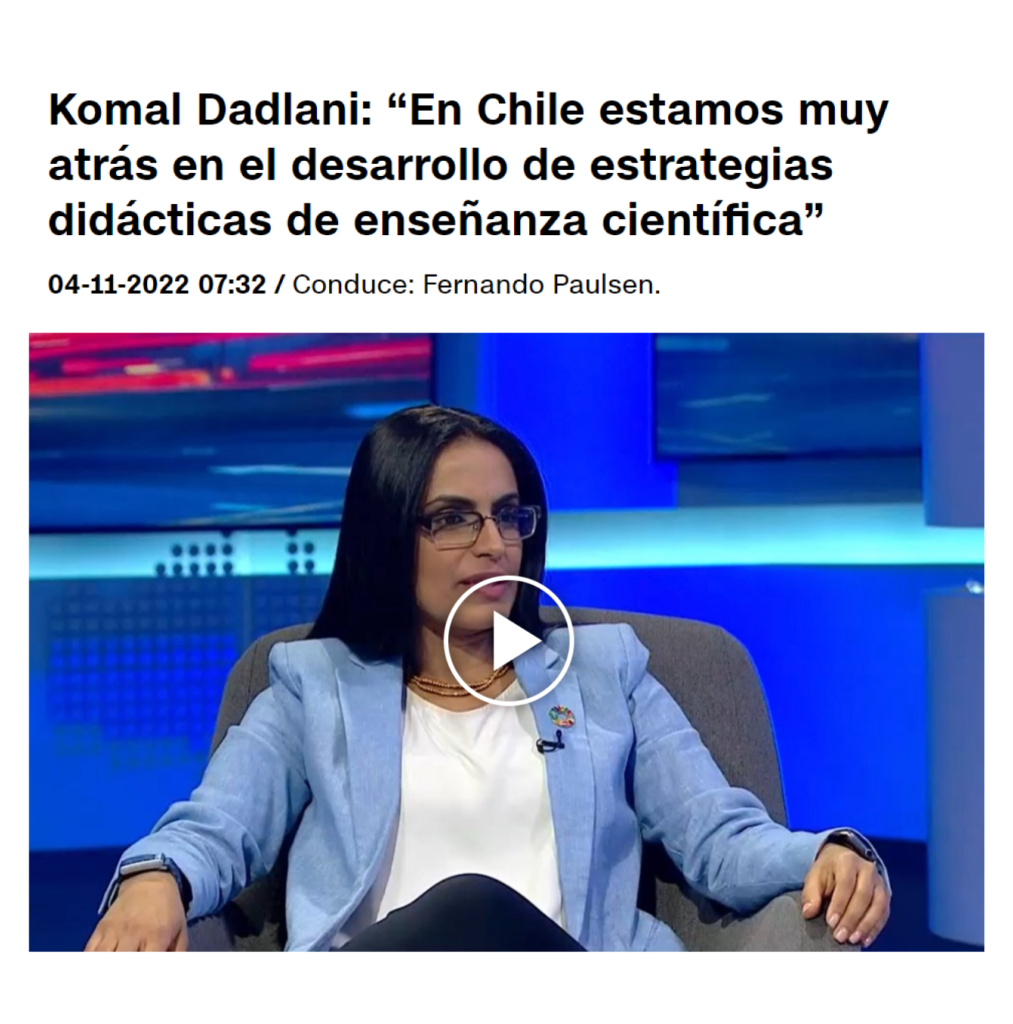 Komal Dadlani and science education in Chile | Última Mirada
The CEO and co-founder of Lab4U spoke with Última Mirada about the promotion of science education in Chile and its weaknesses in this area.
Our team
We're pleased to introduce our dream team, which this year grew by more than 70%! It includes diverse, inclusive, multicultural, and multidisciplinary talent, all of whom are committed to supporting our students and teachers in order to create critical and curious citizens, who will solve the great challenges of humanity.