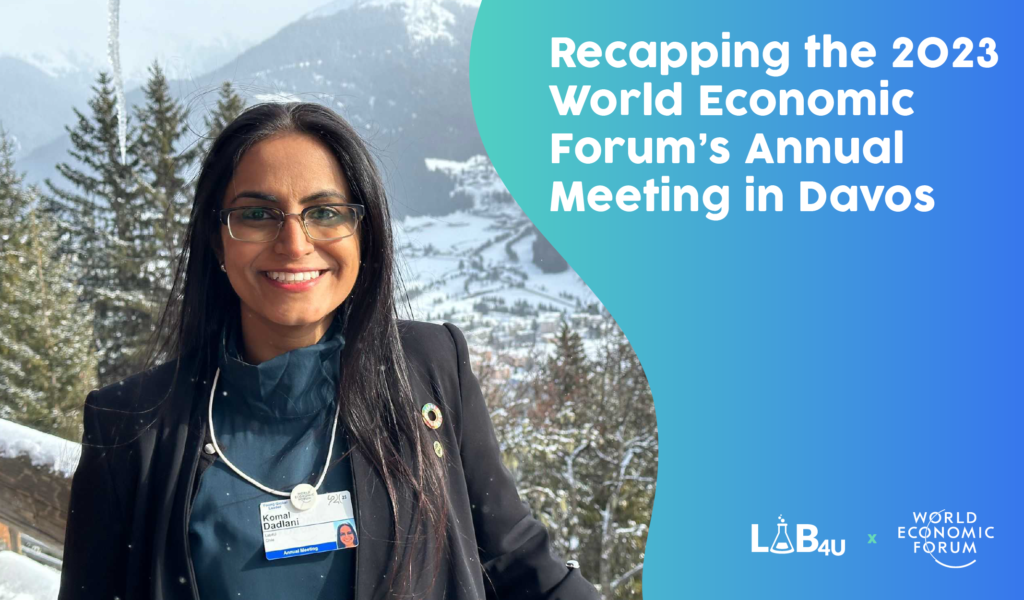 Lab4U on the World Stage: Recapping the 2023 World Economic Forum's Annual Meeting in Davos
Lab4U was proud to be part of discussions on the future of education and work at the World Economic Forum in January. Represented by Lab4U's CEO, Komal Dadlani, the company served as an exemplar for the importance of skill- and STEM-based education, how to rethink access to technology in the classroom, and what it means to build an EdTech start-up in Latin America and with a female CEO.
As a 2022 Young Global Leader—a designation given by the WEF to identify exceptional individuals with the vision and drive to change the world—Dadlani was invited to Davos to represent not only her company, but also her country. Out of the 2,700-plus guests from over 100 countries, she was the only female entrepreneur from Chile to attend.
At the forum, Dadlani participated in multiple panels rethinking global approaches to education and employment. One highlight included attending "Skills First: Unlocking Employment for All," where CEO of Code.org Hadi Partovi spoke about broadening the global talent pipeline by prioritizing skills development over school brands. This perspective mirrors WEF's Education 4.0 framework for advancing education reform worldwide and resonates deeply with Lab4U's mission.
Dadlani then presented at a private panel of multiple international leaders, including Guillermo Lasso, president of Ecuador; Raquel Peña Rodríguez de Antuña, vice president of the Dominican Republic; Ilan Goldfain, president of the InterAmerican Bank; Jose Manuel Salazar, executive secretary of the United Nations; Brazil Luna de Souza, executive director of the Institute of Identities; and moderator Andrés Velasco, Dean of the London School of Economics and former minister in Chile; among others. As the conversation's theme was sustainability in Latin America, Dadlani spoke about Lab4U's work in the communities along with partners such as BHP, SQM and PADF, and about the importance of investing in STEM education for growing GDP and progressing as a region. And, given her unique position, she pushed the panel by sharing that only 3% of this kind of investment goes to female founders—a poor figure that must be addressed for better equity and inclusion.
After an exciting week engaging with powerful thinkers and expanding Lab4U's network, Dadlani had three main takeaways: that too many people feel students aren't properly trained to thrive in tomorrow's workforce, that schools, particularly in Latin America, need to include computer science and digital skills as part of their core curriculum, and that all education needs to embrace the tenets of creativity, collaboration, and citizenship for perennial impact.
These are exactly the challenges Lab4U solves for, as its phone-based platform increases STEM access and strengthens creative, collaborative, and skills-based learning.
For her part, Dadlani found the entire experience enriching and hopes to return again next year. "It was a privilege to represent Chile, Lab4U, and Lab4U's clients and to tell the world how together we are transforming STEM education and empowering the future workforce."