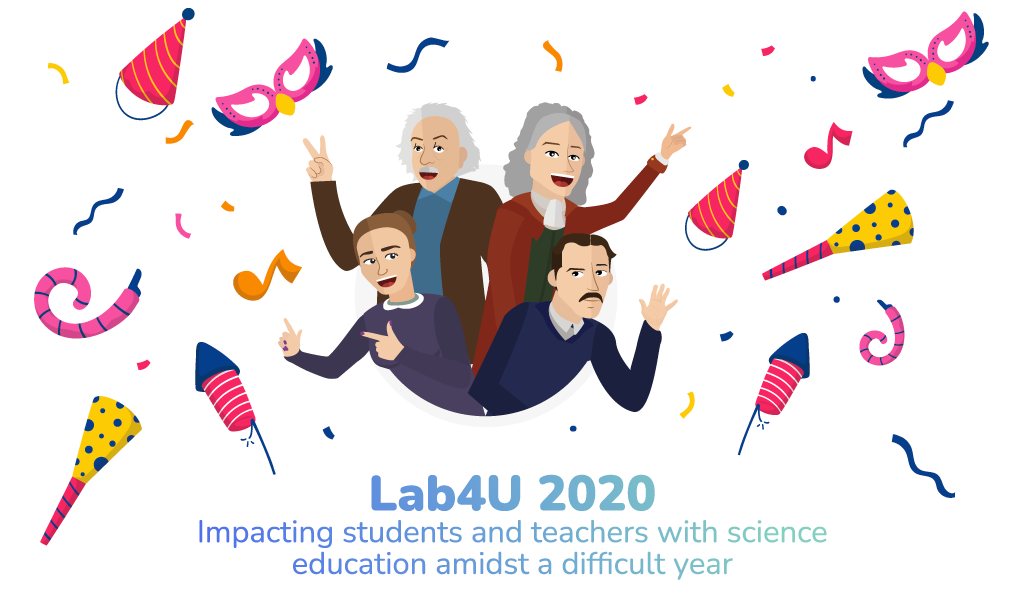 Lab4U's 2020 Impact and more to come in 2021
An unforgettable year in many ways, these unprecedented times have united us as never before, science education has never been more important and our impact is changing paradigms.
Despite having faced a strange and difficult year, we are proud to share with our community all the good things that have happened at Lab4U.
These are the most outstanding events that we can highlight of 2020:
Lab4U's Impact: A year in review
We are very happy and satisfied with what has been accomplished this year, and we want to share some milestones that have given us conviction to continue working for science education with teachers and students.
We have impacted 13K new students and 4K new teachers during this year, taking science education to places where not much is known about it and empowering teachers and students to enhance their knowledge, tools and skills.
Our community has initiated more than 70,000 new experiments throughout 2020, demonstrating that it is increasingly possible to bring the joy of experimentation and discovery while learning science during a pandemic in a remote environment.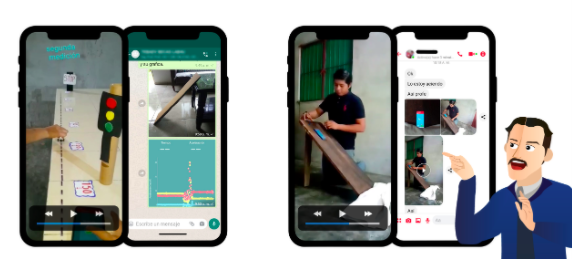 70K NEW EXPERIMENTS INITIATED DURING 2020
We are proud to share that we have had more than 20 webinars with 1600 educators: that's more than 30 hours of sharing! Thanks for the NPs 94, we continue to work to improve our content and experiences. Thank you for that love and for listening to us as part of your routines in this difficult moment in history. We want to bring science education closer to you!
Relive our main public webinars on YouTube
We have brought you 10 new episodes of Lab4U Talks, generating important conversations about how to face science education in the present moment. Our episodes of Lab4U Talks have been played a total of 1011 times between the English and Spanish podcasts during the year. Relive our best conversations at https://lab4u.co/en/blog/.
We are grateful to our CSR (Corporate Social Responsibility) partners such as CEMEX and the US Embassy in Mexico for sponsoring a project to impact the future of the workforce in STEM education in Mexico. That means having 40 teachers and 5K students in 5 states of that country. We are very grateful to our partners for empowering the next generation of STEM professionals, because we know that empowering this type of education is the only tool to change the way science is taught around the world.
Never stopped growing our product
Growing up in times of crisis, that's what this summary should be called. Someday, we had to experience that at Lab4U. We grew in content, product, we expanded our audience and we are happy to share with you some of the new experimental tools and new products launched and to be launched…
This year we have developed more than 25 new experiments between Lab4Physics, Lab4Chemistry, Lab4Brains and Lab4Biology, being the most visited experiments of the year: Moonwalk, Accelerated Learning with Newton and Pirate Ship!
Our good old friend Lab4Physics grew in audience and experiments. Plus we could add a new category of experiment! This year allowed us to continue exploring new tools and possibilities to show students science. Among those tools we have today Lab4Brains, a new collaborative project between Braintoys and Lab4U that becomes the tangible demonstration of the importance of developing skills in these times.
* Only available in Chile (Mexico and US coming soon)
Lab4Chemistry has new experiments and Marie Curie is happy!
With our patented technology, students can discover colorimetry in exciting new ways using their own mobile devices. Lab4Chemistry uses the power of a smartphone or tablet's camera to determine color and concentration of chemical solutions.
Only in Chemistry we have introduced 11 new experiments in 3 categories: Chemical reactions, acid-base and chemical kinetics, besides presenting a new tool: Color Inspector. Thank you CORFO for being a step towards our growth. In 2019 we had 8 experiments and 2 categories. This year we have more than 20 experiments in 5 categories! Marie Curie is happy!
Because we want teachers to continue learning and developing skills to bring inquiry science education knowledge to thousands more students during 2021, we invite you to review our newly designed Teacher's Portal with more content and tools.
And last but not the least … Drumrolls …
By march 2021, Lab4Biology will allow students to explore microscopy using only their smartphone camera with our new tool: Analyscope.
Recognitions & Lab4U in the media
HundrED to ED Tech Solutions 2020-2021
This year we feel honored to have been awarded with the recognition HundrED to ED Tech Solutions, an award (2020-2021) that congratulated Lab4U because it turns smartphones into pocket labs and empowers educators to teach inspiring science classes based on inquiry and exploration.
MIT Solve TPrize With great recognition we also took the MIT Solve Tprize, who noted that: "Lab4U is democratizing access to a quality science education in Latin America. By leveraging smartphone technology that millions of students around the world have in their pocket, Lab4U is giving millions of students around the world access to a hands-on science education. Lab4U supports science educators with tools and methodologies to put their students at the center of the learning process". Thanks!!
LATAM EdTech 100 HolonIQ's
We also want to share our joy for being considered as part of LATAM EdTech 100 HolonIQ's annual list of the most innovative EdTech startups across Latin America.
World Economic Forum
Our CEO and Co-founder was invited to write an article for the World Economic Forum, as a part of the Young Global Leaders Annual Summit, where she pointed out that science, technology, engineering and maths (STEM) are crucial to our future.
Our Community and its impact
ScienceTHON
A big milestone that brings us closer to working with school communities, was that for the first time, students and teachers from all over Latin America gathered in a virtual science hackathon with Lab4U and Colegio Altamira to solve the world's biggest challenges through science and
technology using an SDG framework. Without a doubt, a great advance in the democratization of science!
World Education Week
Last November, our CEO and co-founder, Komal Dadlani, participated in the completion of the Science and Technology Week of Alberto Blest Gana School, where she shared with teachers and students, supporting this initiative that is a joint work of this educational institution with instance that help them to promote their technological area, which welcomes students in search of their tools and skills in this area.
Lab4U 2020 Award
We at Lab4U would like to congratulate Ms. Martha Styer for her exemplary work this year with her students and for her impact on physical education at Cristo Rey High School in Sacramento, California.
At Lab4U we work with science teachers and educators from across the country and around the world who inspire us as they provide their students tools to love science and practice it interactively, thus improving learning outcomes. Ms. Styer has gone above and beyond with her and her goals!
At Lab4U we are extremely grateful to our community of educators, clients, advisors, investors and partners for making the democratization of science education possible for a better world.
Thank you 2020 for teaching us so much, we look forward to making a bigger difference during 2021 and beyond.